Owners : Stephen Bryers Membership No : 163
Corvette Details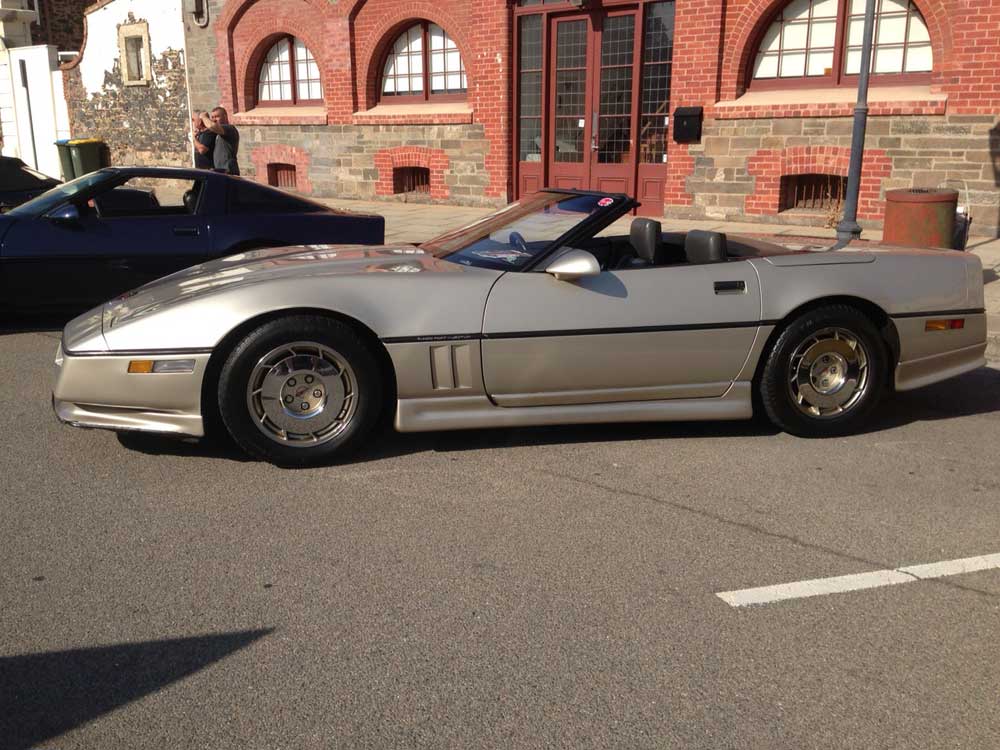 Model : C4 Year : 1986 Purchased : September 2012 Body Style : Convertible
Engine/Trans : 2lt hybrid turbo diesel / 6spd paddle shift……...(Lol just kidding): L98 350 V8 / 4spd Auto
Colour : Silver Beige - Code 59 ( champagne to most people )Interior : Medium Grey Leather
Special Options or Other Details :
The 1986 C4 was the first year back in production for Corvette convertibles since the 1975 C3.
All 1986 convertibles were designated as "Indy Pace Cars" and were used at the '86 race as pace cars, (one driven by Astronaut Chuck Yeager), to promote the return of the convertible....
The 1986 convertibles also got aluminium cylinder heads as opposed to the coupe's cast iron versions, and uprated horsepower compared to the coupe. Total production run for the 1986 Corvette was 35,109 cars, of which 7315 were convertibles. Only 1,383 of the total build were painted in Silver Beige, making it the 3rd least common colour.
My Vette has an optional "Pace Car" body kit of side skirts, rear diffuser and front splitter, which makes the car even lower (and challenging around kerbs and speed humps) than the standard.
I also have the optional hardtop, which I believe didn't become available until '88 or '89, (and which was hanging from our garage ceiling 30 minutes after I got the Vette home from purchase, and hasn't come down since!! )
History of Our Corvette :
My Corvette came to me with 2 folders of history. The original owners, a Mr & Mrs JT Phillips, were from Costa Mesa, near Huntington Beach, in California. The car was 4yrs old in 1990, when it came to Australia and was converted to RHD using a mirror conversion.
The original owner in SA was Mr Jim Claridge , principal of Claridge Holden. It was especially loved by Mr Claridge, who lavished attention and care on it, and once used it to drive Mark Skaife on a parade lap around Mallalla.
The last owner ,whose widow we purchased our Vette from in the Barossa, had sadly passed away a year before, and apparently had been ill for a number of years prior, so hadn't had much opportunity to use the car.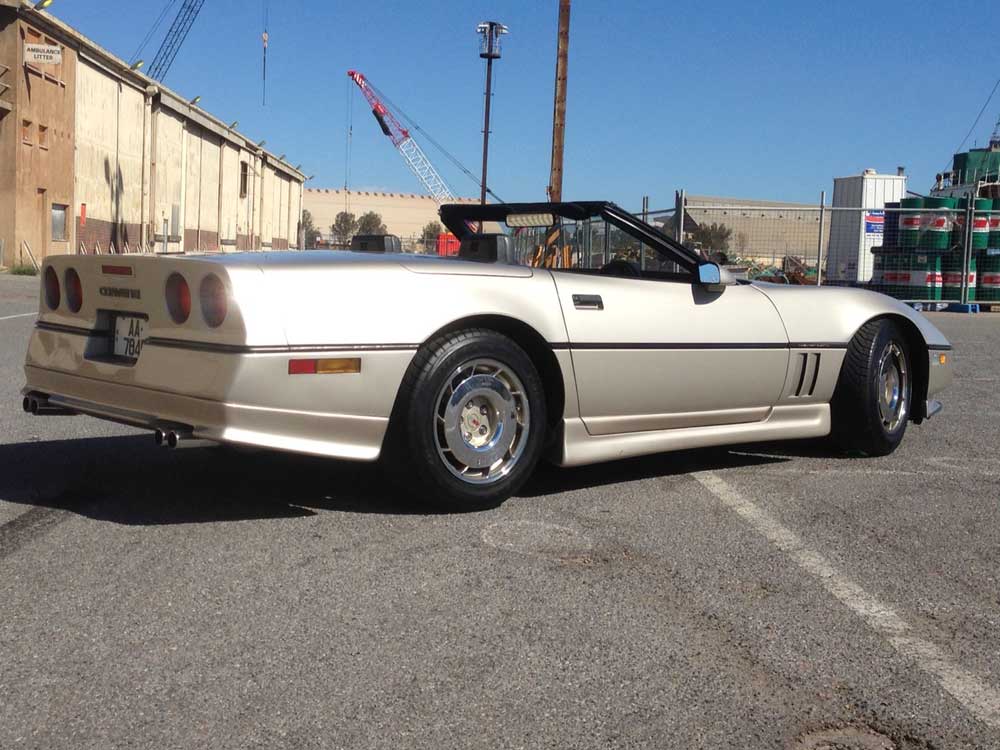 As a result, the Vette came to me with only 56,000 miles on the odo, and in exceptionally good, original condition......
I have now travelled 8,000 miles in the past 2.5yrs, and loved every one of them...
Work Undertaken since Purchase :
In my first summer with the Vette, I were constantly running engine temp at around 90'c+, which was of growing concern to me, and then one of the header tanks on the core cracked and began to leak, so I replaced the original radiator with a dual core, all aluminium unit purchased from Ecklers in the US, for half the quoted cost to replace the existing standard, single core, unit here in Adelaide. Ever since then I now run engine temp consistently around 72/75'c.
I then found it necessary to help the L98 breath a little better, because she seemed to me to be running a Grandpa spec exhaust system, so I visited my local exhaust shop and we replaced the original catalytic converter for a high flow stainless steel unit, larger diameter pipes, and experimented with a series of different restriction mufflers.....I settled on the mufflers one stage up from having none at all....... I'm now quite pleased with how she sounds and breathes.......
And, only 2 weeks ago, my son and I spent 1.5 days sourcing and changing the battery for the first time!! After removing the battery panel, and half the optional side skirt, we discovered virtually no converted C4 has a common solution for the battery orientation.
It became something of a mission, but it was great Father/Son time, and plenty was learned for next time.................Such as : Step 1 - Sell the Car!! :-) lol
Beyond these few events only routine servicing has been necessary.
Favourite Outing :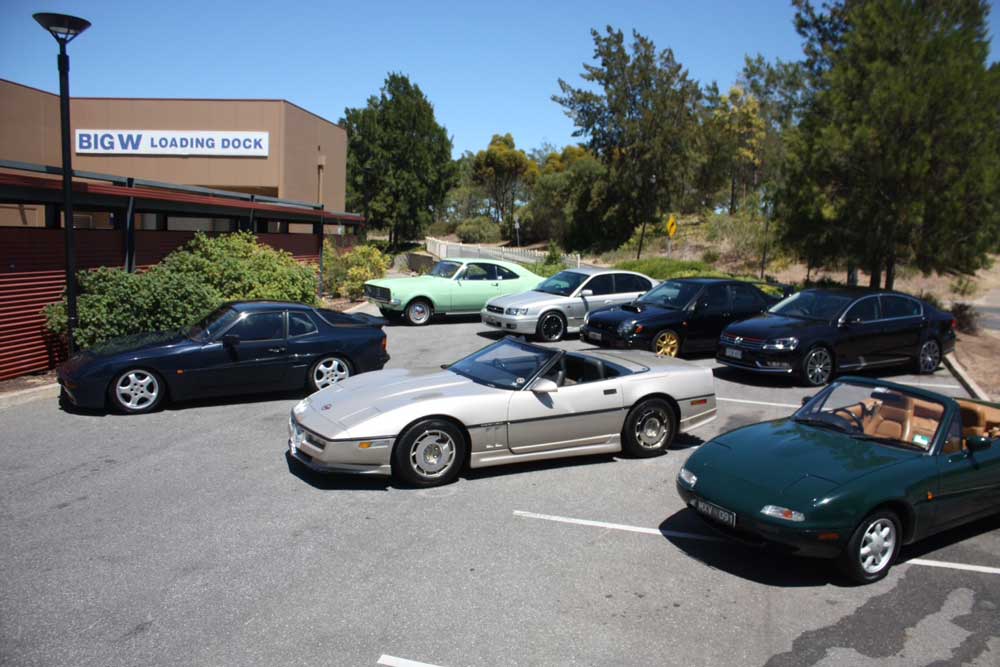 Anywhere I go with the great people from the Corvette Club!! The Mount Gambier trip in 2013 has probably been the highlight so far, but really any club run or Zippel Cruise with other club members is always a great experience...... Good Food, Greatest Driving Roads in Australia, Great Cars, Great Friends - you can't go wrong!!
Other Vehicles Currently Owned :
Apart from the daily drivers, a VW Passat and Subaru WRX STI, we have a 1970 Holden Monaro I've owned since I was 17, an '83 Porsche 944, which I bought from V8 Supercar Driver Nick Percat ,and a limited edition British Racing Green '91 Mazda MX5.
The goal from here forward is to add different generations of Corvettes to the collection.
A C5 Convertible would be first choice, but then C3, C6, C2 etc etc. and ideally they will all be convertibles.