Much anticipation preceeded this trip and everyone was excited, particularly the members that came on the previous Peter and Lynda road trip through Broken hill & the Riverland.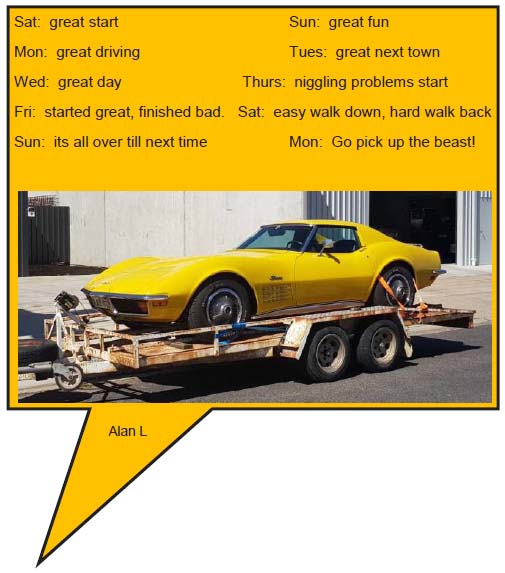 Day 1: I was privileged…. to open my eyes at some ungodly hour to go and fetch Carol and proceed to our meeting point in Tailem bend (And YESSSS we weren't the last, Dave & Karen) and we were met with applause from everyone and Peter lost a bet!!

Off we go! First stop at Keith (Slightly behind schedule!) for the Remembrance Day Ceremony which was quite moving with Bagpipes, bikies, locals and us. A very special moment. I can't remember exactly where but Brian and Betty broke down in their C3. Tow Truck called... waiting, waiting… boys decided to hit the key…. The car fires….. It was an air lock in the fuel line but back on the road with the service crew behind. Moving along we arrived at the Caravan Park on time in Ballarat and settled into our very comfortable cabins and attracted a fair bit of attention from the other park tenants.

Dinner was at a local hotel with everyone very happy with the meals, service and prices. (Carol had the best Garlic Prawns on the planet and never stopped talking about it for the duration!!)

We then returned to our 'Digs' and guess what…. there was a gathering in a certain cabin which was noisy enough to attract the 'noise police'(Enuf said !!)

Debbie & Graham graced us with their presence for the first time parking the 'Custom Corvette' across the road.

Sunday morning at 7.30 till 9.30 there was a coffee and cars meeting up the road and a few of us (who clearly don't indulge in early morning snuggles!) went and participated with the locals and there were some really interesting cars….. apparently!

We then left the park and after a few detours (Bloody GPS) found our way to the Eureka stockade museum which is AMAZING. This is a MUST DO if you are ever in Ballarat, the original Flag is on display and the history on it is something all Aussies should see.

We then moved along to Sovereign Hill which will blow any visitor away. This working Township is a brilliant recreation of life in a goldfield in the 1800's with working Mines, Printer, blacksmith, Hotel, wheelwright, bakery, stagecoach and so on, with all staff dressed in period costume.

Back to our caravan park and a lovely cold serve organised by Peter & Lyn along with willing helpers. I tried to teach Rudi to play chess on the life size chessboard but good help is hard to find these days (Peter Bartlett!!).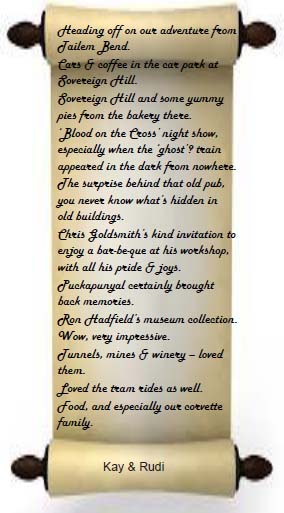 We then re-visited that evening for a 2 hour (Or So) live show of Blood on the Cross which was totally different to anything I have ever seen. Ask someone that was there for a description (I can't do it here!)

Day 3: was amazing, interesting & full of activity as we moved on to the 'seething metropolis' of Beeac (Near Colac) and a fantastic welcome with food and service to match at the Farmers Arms Hotel. A few members were caught out having a Bevy on the porch when 'Constable Plod' turned up, apparently there is no alcohol consumption allowed outside the Hotel (naughty!!).

The van Doorn road show also turned up with Fur kids in tow so puppy sitting became a shared task among the puppy lovers!

The Owners wife (By arrangement with the husband and captain Bling!) was happy to show us through a couple of his 'sheds'. We were privileged to see many rare and special cars including a 4 Cylinder (Yes 4 cyl) Ferrari 'Experiment car, a beautiful 50's Riley sport's Car, English-Chevrolet truck, GT 40 and an almost new Ferrari 550 plus a huge array of 'Stuff'.

We then moved along taking in the scenery and finished up at Dales brother's property for a BBQ expertly cooked by Peter B & Johnsy and assisted by many others, who also prepared the salads etc.

Dales brother Chris, family and friends made us very welcome and we were privy to a treat to view his 'toys'. A beautiful example of a Cobra (probably the best example I have ever seen and 20 odd years to build), an example of a 'lotus 7'style clubman with LS 1 grunt, (Which by his own description is scary) and an amazing example of a GT40 currently 'in build' with a fantastic self-made fuel injection system and an exhaust system to match any F1 . (This man is seriously talented and described himself as "just a plumber"!!) At the end of the evening we were treated to the 'orchestral sound' of the engine (even tho it was a ford it sounded awesome!)

Day 4: was an early start (9.00 GROAN!!) and off to the Lancefield Bakery, Pete's GPS was playing up again so a little bit of 'extra touring'!! We win the award for the biggest u-turn in history….. 170kms round trip back to Lancefield, in the middle, a vapour lock issue with the 'Bling Thing!!'…..followed by a DUMMY SPIT!! ***##@@** Pete!! Jim to the rescue (remove petrol cap to listen for fuel pump and WALLAH air pressure relieved, vapour lock fixed and off we go to Puckapunyal via Lancefield Bakery for lunch.

We set off for a 1.45pm appointment with the museum, 20 minutes along the way Lynda called me to say that they had Carol's purse that she had left on the counter, U TURN grumble, grumble then I thought Ah Ha good opportunity to explore the C5 performance!! (We got to "pucka" just as the crew were going in!!)

The Military museum there is something very different and is very focussed on tanks, heavy armament and weapons in general. Not really a "girl thing" I suppose but a really special experience for anyone interested in history.
The day is over and on we go to Bendigo, check in and off to Dinner at the Lake View hotel.

Booked for the "backroom "outside (In the Heat) we were given tables in side in the cool much to the girls liking.

Day 5: Off we go to Rod Hadfield's awesome museum. This guy is a legend of hot-rodding in Australia and was the original owner of the Castlemaine Rod shop.

The highlight of the show was the tribute he built to his grandfather based on an old Packard chassis (heavily modded) with a spitfire engine. Rod himself was funny, informative and a really nice guy with much to share including his demo of a "Jumping Cadillac "built to be legal and a first at the time.

I cannot begin to describe the contents of this hot rod heaven, so I suggest you visit or Google it !

Moving along we then visited Carmen's Tunnels which was once a gold mine and learned about the different methods used in the day and the air drill invention (which turns out to be another example of Aussie ingenuity!) Followed by a late lunch/wee stop in a quaint historic township of Maldon.

A few people graced the Pub with a few dollars and then on the way back to Bendigo we paid a visit to Mt Tarrengower which apart from being an amazing lookout with a tower is the home of Australia's oldest hill climb track (Apparently).

On the way back, DISASTER!! Poor Gus was unfortunate to have a 4 foot water pipe that departed company from a passing truck bounce off his bonnet into the windscreen of the C6!! What a mess!

Gus was extremely lucky that it impacted side on because if it had been end on I suspect he would have been seriously injured if not dead.

Fortunately he was "shaken and not stirred", the Police were called, the truck got away (although if Gus finds the SD card that spat out of the dash cam when the impact smashed the camera, the truck might be identified) The tow truck arrived and took the car into a repairer in Bendigo and a new screen was fitted on Friday. Phew! After the drama the scheduled BBQ became a Pizza party and some bevies and the day was done.

Day 6: Was a fairly casual affair around Bendigo with most heading off to enjoy a Mine tour, Joss House, Tram tour and other highlights followed up with another dinner at the Lakeview Hotel again.

Others just mulled around the Town Visiting places of interest at their own pace. (Massive s/h bookshop, Church Organs… Guess who??) (I told her that I had an organ that needed attention!!)

Day 7: A very sensible Departure time of 10.00 saw us on the road to Halls Gap via Avoca for lunch and an afternoon visit to what turned out to be the ORIGINAL Seppelt winery and a brilliant & informative tour through the tunnels and original buildings etc. The guide was a semi-retired Chemist/winemaker and we learned how the Champagne method was performed to get the bubbles and the history involved. Did you know that all Champagne starts out as a still white? Also, did you know that ALL grapes produce white product. (The red wine colour comes from the skins!)

Off we go and BANG! Another disaster Poor Alan's C3 transmission (which had been misbehaving for a day or so) decided that it didn't want to play anymore. So, it too ended up on a tow truck for a visit to a workshop. Fortunately, we had a couple of cars with a driver only so both Gus and Alan were catered for. Dale & Alan went back once we were all home with my car trailer to pick up the troublesome child and bring home. (It will be almost a new car now!!)

Arrived on time at the aptly named Kookaburra motel in Halls gap, what a beautiful location, the host was brilliant, rooms were great and the BBQ area was brilliant. THE BEST PART was the bird and animal life. We were visited each evening by 6 or 7 Kookaburras that came and sat on the handrail of the BBQ area while the motel owner threw them some meat one by one! Catherine actually had two of them perched on her arm until she couldn't hold them anymore!

7.00 off to the Punjab restaurant for a tantalizing spread of food with excellent service and a very interesting outdoor area with lots of "props" depicting various features of Indian history and culture.

Carol was coerced into "tickling the ivories "by devious means and we all had a great time (Once again).

Day 8: Another sensible departure at 10.00 and off to explore Mackenzie Falls and surrounding points of interest.

Most of the crew were spirited enough to accept the challenge of walking to the bottom and back (Which was well worth the effort, Rudi and Jim and others!)

The afternoon was a very casual affair with several people taking time out for a pre-BBQ nap/nookie or whatever!!

The Evening BBQ was once again cooked by Peter B & Johnsy and helpers as were the salads etc. arranged by Lynda, Carol, Deb and others.

We had some fun playing mind game questionnaires for the boys with some fantastic prizes and the girls played the bean bag throwing challenge before we ate and as usual the food was plentiful, nicely cooked and prepared. Off to bed and pack to leave in the AM.

The last day was a bitter/sweet day as are most holidays that come to an end and we departed at 9.30(I think) for Bordertown via Horsham and Frances.

Lunch at the pub was really good, huge serves good service and quality food at a sensible price!

We all said our goodbyes and headed for home!

As a quick summary Peter and Lynda are absolute legends with their thought, planning and execution when organising these trips and I sincerely would like to extend my gratitude to them on behalf of all that went.

Thank you to all of the members that contributed to assisting in anyway (You know who you are).

The members that went all connected really well and all had a fantastic time! (apart from the few hiccups which I guess is all part of these trips).

My Clutch survived and I got around 9.5 l per 100km. (not bad for a 5.7 with a leadfoot!)

Pete & Lynda's run was advertised in the newsletter and also at the meetings. Look out for the next one and get in quick, as they are always a well oiled, organised event.
Signing Off , Rob Butler